With warmer temperatures come invites to summer weddings. I love weddings. I do a little happy dance whenever a save the date appears in my mailbox. I drag the hubby or a girlfriend and get ready to rock the dance floor.
However, we must answer a big question before the dancing commences:
What to wear to these summer weddings, especially the ones outdoors?
Don't you fret. I've got your back. Here are 5 tips for choosing the perfect dress to wear to a summertime wedding so that you keep your cool.
1. Pick The Right Fabric
I try to wear fabrics that breath and don't cling too much to my body. If you're suddenly seated in an area that's sun filled and hot you're ready for it. I tend to stay away from 100% silk because I've experienced the dreaded sweat stain that waves all the class you had bah-bye. My go to fabrics are: cotton, linen/ cotton blend, lace, viscose, modal, silk blend and even a light weight polyester blend. This little lace number is playful and the contrast collar adds a polished detail.
2. Keep it breezy
I've found that if the dress has an airy feel it's like natural air conditioning. Awww!! I tend to look for styles that allow me to keep my cool without sacrificing the dressier look needed for a wedding. I love lace, eyelet, silk chiffon, seersucker and swiss dot. I also tend to go with a shorter styles that allow me to move easily (hello dance floor) and keep classy all the way the home.
3. Wear shoes meant for walking and dancing
Grass and heels do not get along, so I recommend rocking a style that allows you to maneuver any type of outdoor terrain. You cannot go wrong with a block heel, wedge, sandals or fun flats like the ones I'm wearing. We all know how much happier we are when our feet are indeed happy feet!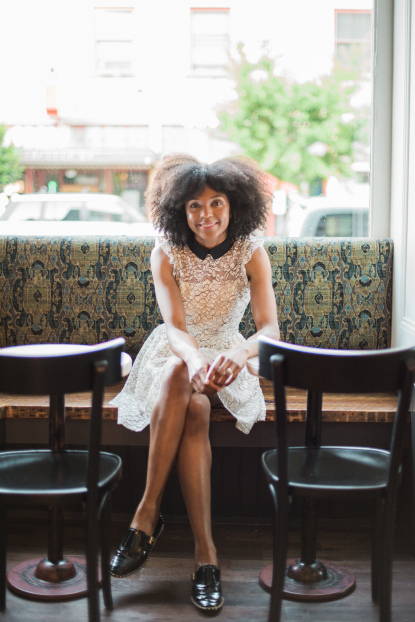 4. Keep it simple
Yes, we know this, but we can't help but overthink and make it more complicated than it needs to be (guilty). Since I've learned my lesson, I'll pass it on to you so you can avoid the hassle. Keep the style simple and easy. You're at this wedding to celebrate (hopefully) someone you really care about and be a part of a very important day in their lives. Show up, be yourself and have fun.
5. Include Pretty Little details  
When the temperature rises we want to wear as little as possible so accessorizing can be our savior! When it comes to glamming up simple styles, a cool textured clutch or fun earrings are great ways to add fun to any outfit. I'm currently obsessed with this style in gold. Even the way they move makes me feel breezy.
---
About the Author
Learn more about and contact Laura at www.lauratully.co. She'll be sharing style tips regularly here on the Burgundy Fox blog and you can follow all her stylish adventures on Instagram at @ lauratully.com.