Foxes, please tell me that I am not the only one looking forward to spicing things up this Valentine's Day? Lady Corona has really thrown us for a loop - making life a little dull, don't you think? Pretty sure the only exciting things going on in my life are those early morning cups of coffee and the occasional evening sips of something bubbly. I know, boring with a capital B - hence the reason why I thought it would be fun to challenge you all. Doesn't matter if you're single as fuck or in a relationship. Allow yourself to let cupid strike you in the ass and sex up your Valentine's Day.
1. Connect COVID times have been a weird one for connection - especially if you live in a place where lockdowns are mandatory or where everything is closed. Plus, not everyone is accepting to house guests. This can really make you feel alone. On the flip side, you might be on what feels like month 48753 of being locked down with your significant other or roommates. Starting to feel a bit suffocated by being in each other's space 24/7. So, naturally, you distance yourself as much as possible. Trying not to become aggravated by their breathing (LOL).
Foxy Duo: Spend quality time together and ask each other intimate questions. These are unprecedented times, where we have all changed and evolved. Check-in with each other and the relationship. See if there is anything in your lives that needs more or less attention. Make each other feel loved, seen and heard.  
Solo Fox: Dim the lights, spark a candle, grab a pen, piece of paper and start spilling your soul out. Get honest with yourself, your goals, the direction you're going in. Connect with your desires so you can start living the life you want.  
2. Make A Creative Plan You know, most people think that making a plan takes away all the fun in sex, but I say that's bullshit. Think of all those "Netflix and Chill" nights you had where you knew exactly what was going to happen. Or that time you shaved because you were meeting up with your ex for the "last time". Girl, you knew exactly what you were doing. Valentine's Day is no different, whether you have a partner or not. Make a plan and get excited about it.  
Foxy Duo: Each of you takes over a room and turn it into something completely different. Like, maybe you guys are super romantic, and you turn your living room into a rose petal candlelit picnic. Or you guys are adventurous and set up a Blow Job stand on the balcony. Or y'all love festivals and turn your guest room into the main stage. Or you have a specific fantasy you want to act out. Maybe create a saucy film? The point being, get creative, let loose and have fun!
Solo Fox: The question: do you ever forget that it's okay to spoil and pamper yourself? Sometimes I catch myself thinking: "I can't wait to have a significant other to go on the perfect date doing XYZ". But truthfully, we're more than capable of giving those things to ourselves. Treat yourself to your dream date, depending on where you live, you might not be able to actually do it. But you might be able to create something close. Make it special! You don't need anyone else to do it for you.  
3. Build Up the Sexual Tension Now that you've created a plan you're actually excited for, it's time to build the tension. Sexual tension, the foreplay to the foreplay. Just so we're clear, this is not a tip that I just pulled out of my ass. This tip is strongly recommended by the sex therapists and every article ever written on spicing things up in the bedroom. Building up that tension is going to make things hotter than ever.  
Foxy Duo: Hear me out, starting today, NO MORE SEX until V Day. Yes, this includes masturbating too! Take the time to build up that sexual tension that you cannot wait to jump your S/O's bones.  
Send Naughty Sexts
Snap Risque Photos
Share Positions to Try
Solo Fox: So what if you don't have a partner or friends with benefits?! You can still build up that sexual tension (and tolerance) too. I challenge you to put your vibrator down, give your fingers a rest and no masturbating until February 14th.  
4. Try A New Position It's one of those things where you can't knock it until you try it. This is one of the BEST ways to explore you/your partners body. As well as your likes and dislikes. Plus, it drags you out of the mundane routine you've got going on.  
Foxy Duo: Two words, Kama Sutra, need I say more? Again, it's really easy to get caught up on routine and what "just works". Valentine's Day is literally the BEST excuse to take the time to explore each other's bodies while trying something totally new. If it's a bust, laugh it off. But you might be surprised by the results.  
Solo Fox: I can't be the only who is guilty of doing the same thing over and over, just to get the job done? Or did I just embarrass myself in front of you - LOL? Sometimes it's necessary, others it's good to be adventurous and try something new. In my last post (on How to Tap Back Into Your Sexual Energy: Part II), we touched on this a bit. The Importance of switching things up and stepping outside of your comfort zone. Stepping into your sensuality to explore your body. If you need some ideas, here is an article from COSMO with all the spicy positions.
5. Experiment Kind of reiterating to the last point of trying new positions, experimentation is also key, as you can't knock it until you try it. There are SO many fun ways to experiment in the bedroom apart from new positions.  
Foxy Duo:
BDSM Play
Temperature Play
Strip Poker (or any game for that matter)
Wax Play
Sex Toys
Role Play
Watch Porn Together
Make A Sex Tape
Dirty Talk
Threesomes
Watch Each Other Masturbate
Edging
Solo Fox: Why not try everything on the Foxy Duo list?
6. Foreplay This is your friendly reminder to not skip out on foreplay. Men have it easy. All he has to do is think about sex and he's standing at attention ready to go. But for you and I, it takes a hot minute to get things going before we want to dive straight into penetration. I don't think a little extra attention down there is too much to ask.  
Foxy Duo:
Make Out
Body Massage
Kiss, Lick, Nibble the Erogenous Zones
Dry Hump
Sensory Play
Oral Sex
Strip Tease
Set A Mood
Solo Fox:
Explore Touching the Erogenous Zones
Sensory Play
Set A Mood
Tease Yourself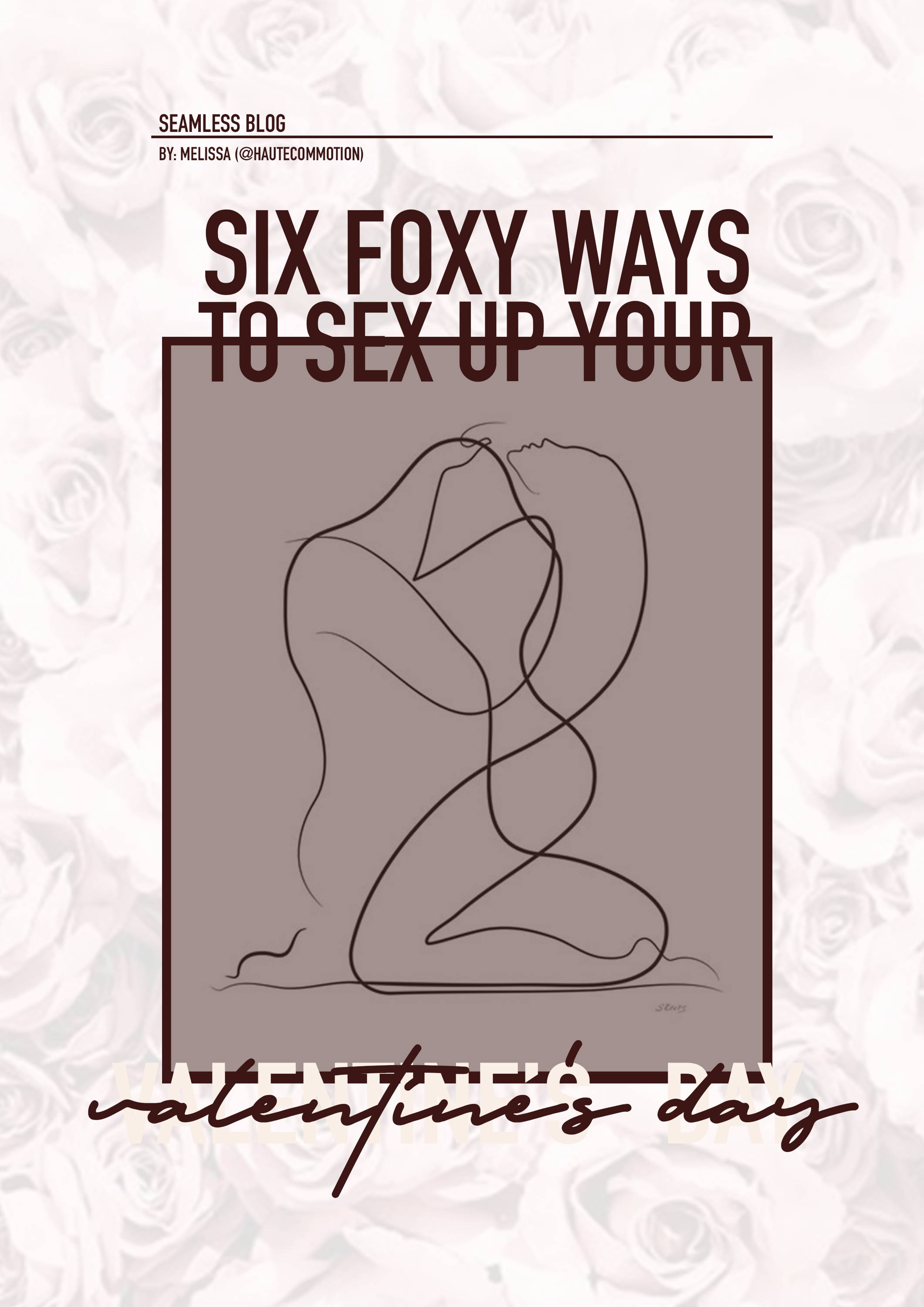 Oh, one more thing. Get dressed up for the occasion. Do your hair, throw on some make-up and strut in your hottest lingerie. Don't worry if you're missing that last part. We literally have you covered with the
Valentine's Day edit on Burgundy Fox.
Unitl next time, #StayFoxy xx
Melissa Cherniss
@hautecommotion