At the core of Burgundy Fox are two main principles: celebration and empowerment. My journey towards finding self-love has come in peaks and valleys. Throughout the highs and lows, I can distinctly recall the times when I felt my strongest. Whether it was the summer I went from loathing to loving running and logging 30 miles a week, or the year I transitioned my career into a brand new industry as an early startup employee, I felt the most confident when I pushed myself against my 'edge'. These two instances are completely distinct and yet related. There is a undeniable connection between mind and body, when one is inspired and working at optimal levels, the other follows suit--I believe this mind-body alignment is key to empowerment. You cannot have an empowered body without an empowered mind, and you cannot have an empowered mind without having the utmost love and respect for your body. Burgundy Fox's mission is not only about celebrating all bodies, but working towards empowering women and girls mentally and emotionally. Because this is so central to our mission, we decided to allocate a portion of profit to organizations that share the same goal. For every box delivered, we donate 10% of proceeds.
Thanks to you, we are able to make a sizable donation our first month into operation. I searched for non-profits with a mission I believed would resonate with the Burgundy Fox community, and I was thrilled to find Movemeant Foundation. Immediately, their mission spoke to me:
We believe that every body is meant to move and that through movement, we can enable women and girls to find self-confidence, self-esteem and positive body image that leads to physical, emotional and mental well being for the rest of her life.
Movemeant offers body-positive, self-confidence building tools, resources and experiences where fitness and physical movement is the gateway to her feeling powerful in the skin she's in--including curriculum in underserved public middle schools, scholarships to partake in athletic programs, and events that draw attention to physical movement as it correlates to mental and emotional health, such as Dare to Bare, the nation's largest body-positive fitness festival, which takes place in San Francisco and New York.
This is exactly the type of program I wish had been available when I was approaching my teen years. With 2 immigrant raised parents working overtime, both the budget and time for me to participate in sports or have an open dialogue around body confidence wasn't available. Growing up, I saw both my sisters experience their own unique struggles with accepting their physical appearance in a world with a binary view of beauty--being exposed to an alternate view in a peer environment, could have changed a lot. Active in 10 public schools, Movemeant's middle school program facilitates smart, body-positive curriculum that fosters discoverability of the many ways our bodies can move. With a focus on the most formative years of a girl's life, their curriculum addresses the critical need for emotional, social and physical development for girls, with topics ranging from social media's impact on beauty ideals to body diversity and genetics. Discussions occur in a casual environment, with an overlay of creative, contemporary physical programming, such as hip hop dance, cheer dance, yoga, zumba—even kickboxing. Their curriculum results in greater self-confidence, the birth of teamwork and community, and a cultural shift of dialogue around beauty ideals.
You can learn more about Movemeant Foundation at Movemeant.org and register to attend or volunteer at their upcoming Dare to Bare in San Francisco on May 20, 2017 here. I'll be volunteering myself, I hope to see you there!
---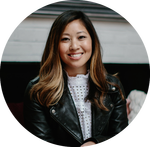 About the Author
Leslie Wong is the Founder of Burgundy Fox, a subscription lingerie brand on a mission to celebrate all bodies and empower women to love themselves. Burgundy Fox strives to create a more inclusive shopping experience and a kinder message about beauty for women now and in the future.