With pieces all the way from France, Ms. J stuns in her lingerie photography session
Sometimes one boudoir shoot just isn't enough. Which was the case for Ms. J, who came in for her first session last February. In July we received an email with the subject line: "Virgo season, bday shoot." Before we even opened the message we knew we'd already be on board for whatever she had in mind.
Her idea was to showcase the gorgeous pieces of lingerie she picked up in Paris over the summer in a sultry hotel setting. After some speedy research, we decided on a suite at The Waldorf Astoria, loving the clean lines, neutral color palette, and floor to ceiling windows.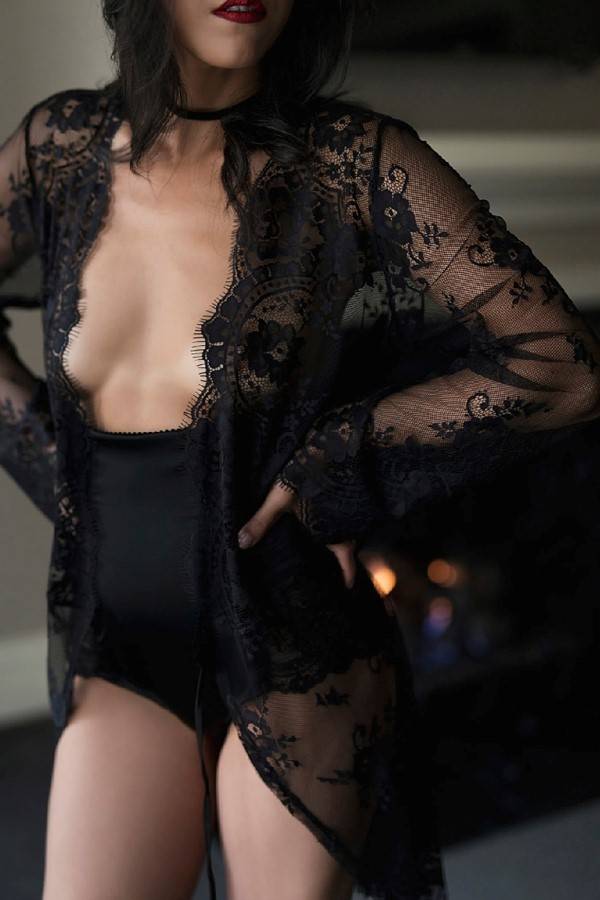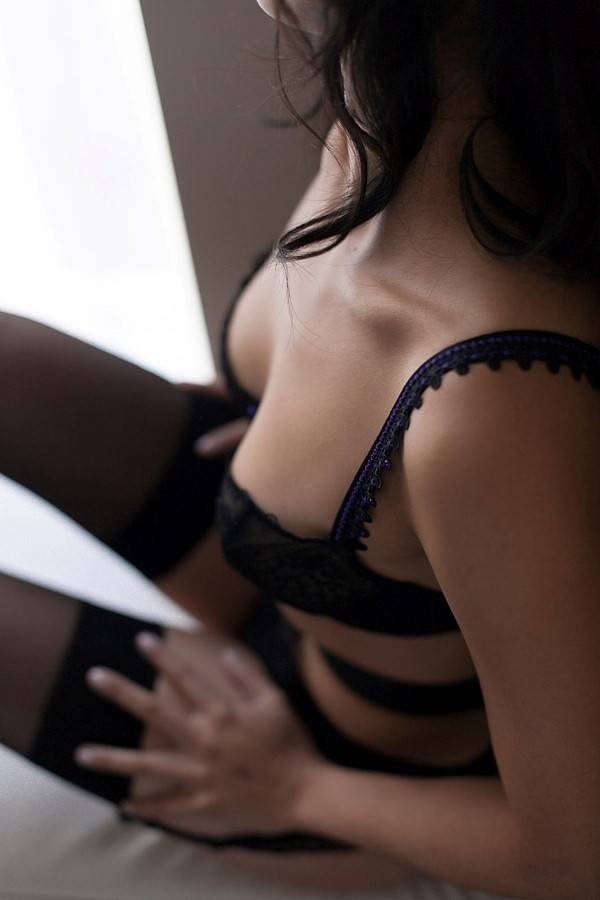 When we arrived, Ms. J had each item laid out on the bed before us in a flatlay design that would make an editorial stylist proud. When we saw the lingerie in person we knew exactly why she wanted to do another photoshoot. This time around though, we're letting her share in her own words...
"I feel like I can conquer the world with the right lingerie. And to this, I celebrate."
"I have no idea where my love for lingerie comes from... all I know is how I feel when I'm wearing it. Empowered. On my last visit to Paris, I decided to do a Tour de Dentelle. Tour of Lace. My journey brought me to some of the oldest lingerie boutiques on rue St-Honoré to the newest and trendiest departments at Galeries Lafayette. I wanted to do a photoshoot in them not only to celebrate myself for the 34-year-old woman I've grown to become and love but also to capture and commemorate the essence of the items that speak most to my soul."
The star of my show was made by Aubade. This company was founded in 1875 and was known for their girdles and corsets. I picked up this set because of the originality of the suspender belt design—so simple yet excellent at elongating the thighs because they hold the stockings from the sides, not from the front and back, like most. Easier access for all parties involved... Another thing I love about this set is the tiny blue Swarovski crystals sewn into the lace. One can only see them if he's lucky enough to get that close!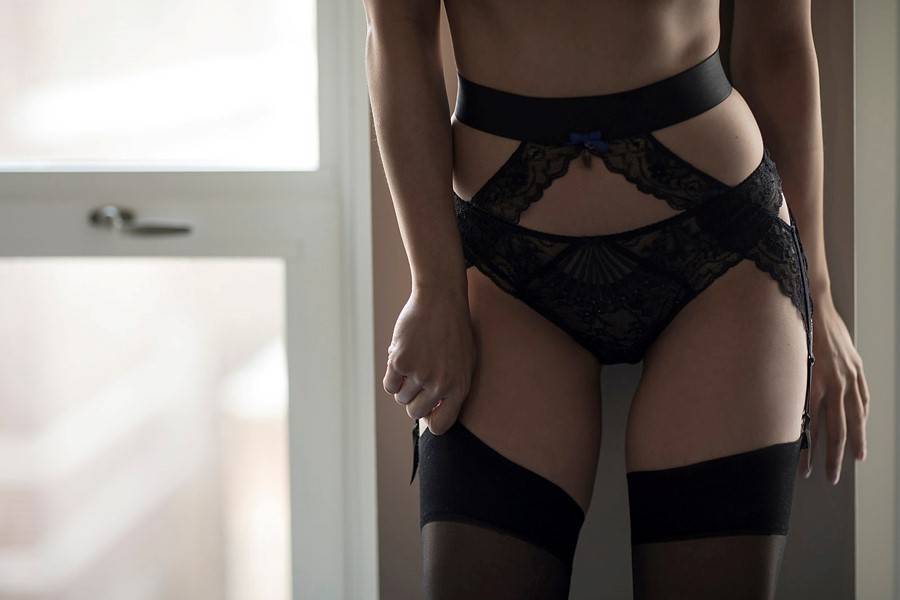 The bodysuit was made by Honey Bridette, which is actually an Australian company, but I couldn't help but fall in love with the details. The deep v front leaves exceptional room for the imagination. The gold buckles add just enough of a bondage feel but are offset by the dainty lace trim on the open back. Paired with my favorite red lipstick and stilettos, easily one of the power pieces in my collection.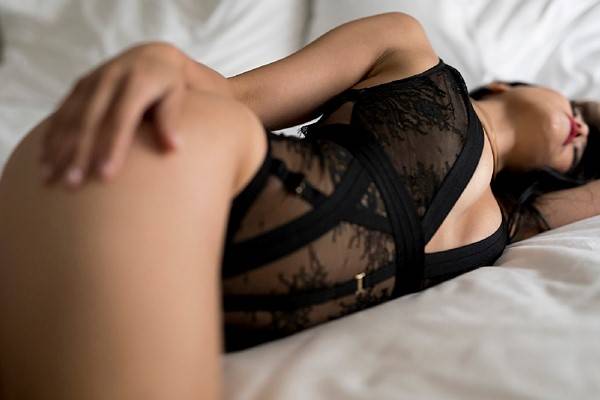 Lastly, the high waisted briefs. Love at first sight! Pairing this with a bra wouldn't have done them any justice. The boning all around the piece and the placement of the lace will accentuate even the most petite woman's curves. The drawstring in the back gives it a true under corset feel and also enhances the seduction factor 10 fold. These were made by Cadolle. Herminie Cadolle invented the bra in 1889 and today the boutique still makes bespoke corsets.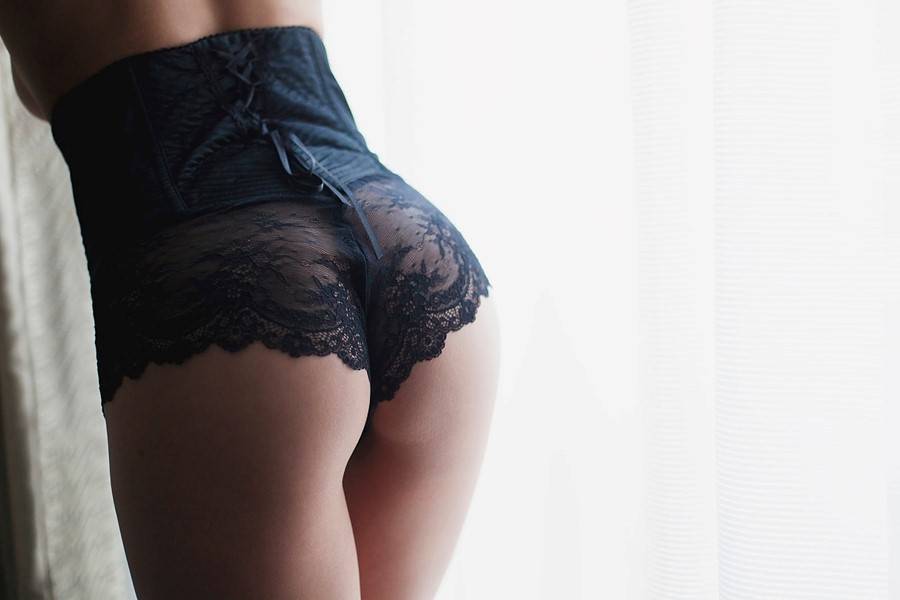 About the Author
We're so excited to share featured guest blog posts (more to come!) from Maggie Rife Ponce, the Chicago Boudoir Photography Studio owner of Revealed Studios. Maggie is one of our incredibly talented Boudoir Partners, specializing in boudoir, weddings, and portrait photography.
Interested in your own boudoir or lingerie photographer session? Contact Maggie here or call 773-273-9063.
You may also enjoy reading from Maggie's blog:
Need outfits for your own boudoir or lingerie photographer session? We've got you covered. Try our Boudoir Box for hassle-free lingerie shopping!