As the world shifts to accommodate the "new normal" to say it has been difficult for couples forced to postpone their weddings, is an understatement. But in a time where things feel so uncertain we believe it is also a time full of hope. Weddings are not canceled and while couples continue to be creative with their celebrations we know a few things will remain the same. Intimacy, for one, is not going anywhere. In fact, we would argue that intimacy is stronger than ever.
So whether you are planning a virtual celebration, downsizing & simplifying, or planning a new event all together we are here to help with love in the time of a pandemic. Looking for something to gift the bride or the bridal party? We have compiled ten looks that are perfect for celebrations (socially distanced of course) before the wedding, sexier for the night of and looks that will translate perfectly to honeymoon mode - no, those are not canceled either!
Shop The Looks:


1. The Darling Set: The darling is versatile enough to wear while you dress for the day, to pack for the honeymoon or to even gift the bridal party as they wear a complimentary color to the bride!
The Darling Robe

is a statement piece featuring

allover embroidered lace

and is the perfect blend of romance and fashion, ideal for getting ready on your big day! The robe comes in long and short styles, three colors (ivory, black & champagne) from sizes XS to 3X.

The Darling Lace Gown this gown offers a twist to the classic chemise with its delegate lace paneling. Pairing perfectly with the Darling Robe this gown comes in three colors, black/ivory/champagne, and long or short styles, from sizes XS to XL.
2. The Charming Set: Wear for your big day and toss in your suitcase the next morning for your honeymoon, it is the perfect cover up to your bikini or to toss over your cocktail dress.
The Charming Robe

is a luxurious robe featuring allover embroidered lace and a sequin detail. This delegate piece is available in two colors: ivory & black from sizes XS - XL.

Pair the Charming Robe with the flirty Charming Chemise. This lightweight chemise features chiffon fabric, a delicate sequin detail in bust and back area. Available in two colors: ivory & black from sizes XS - XL.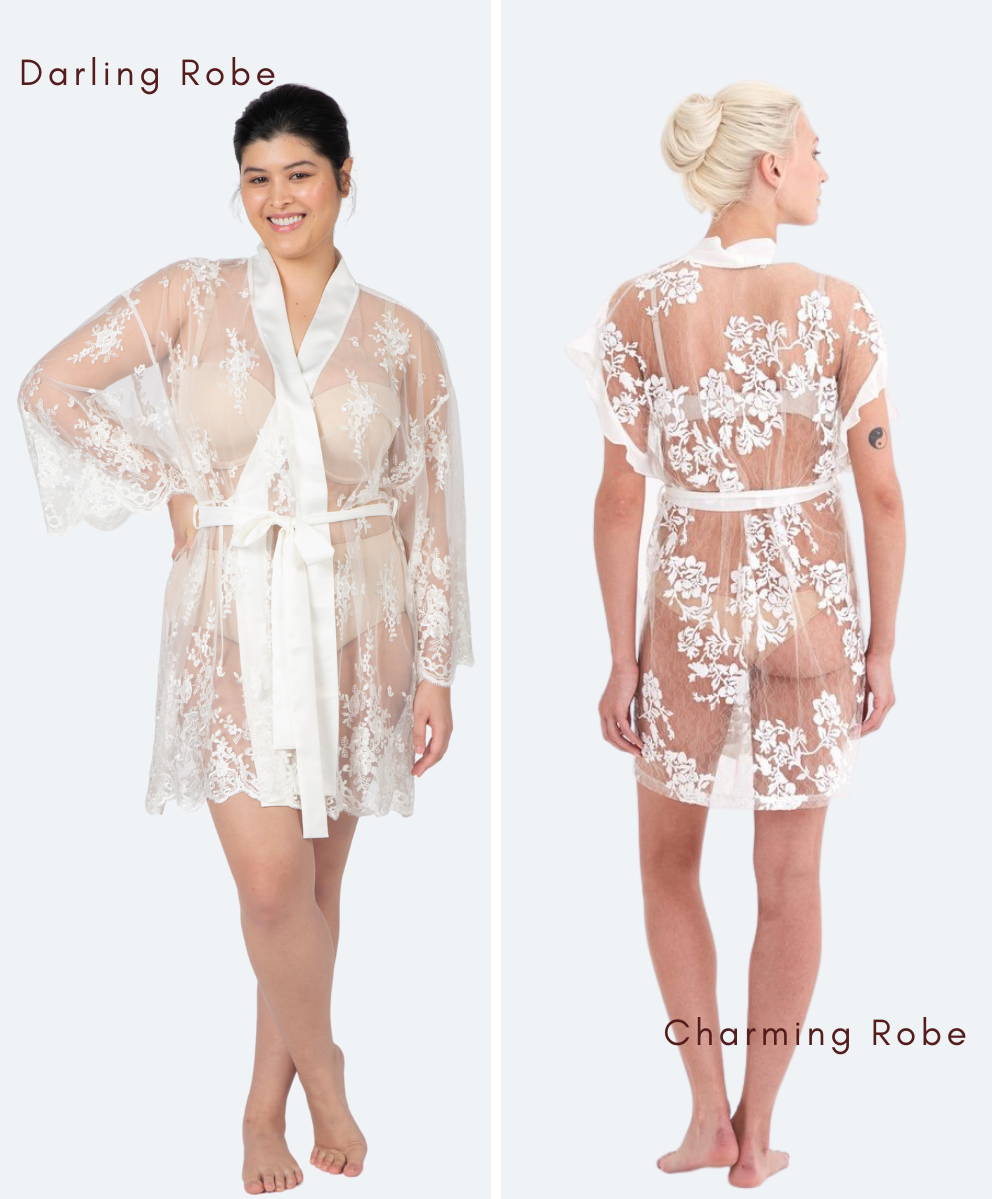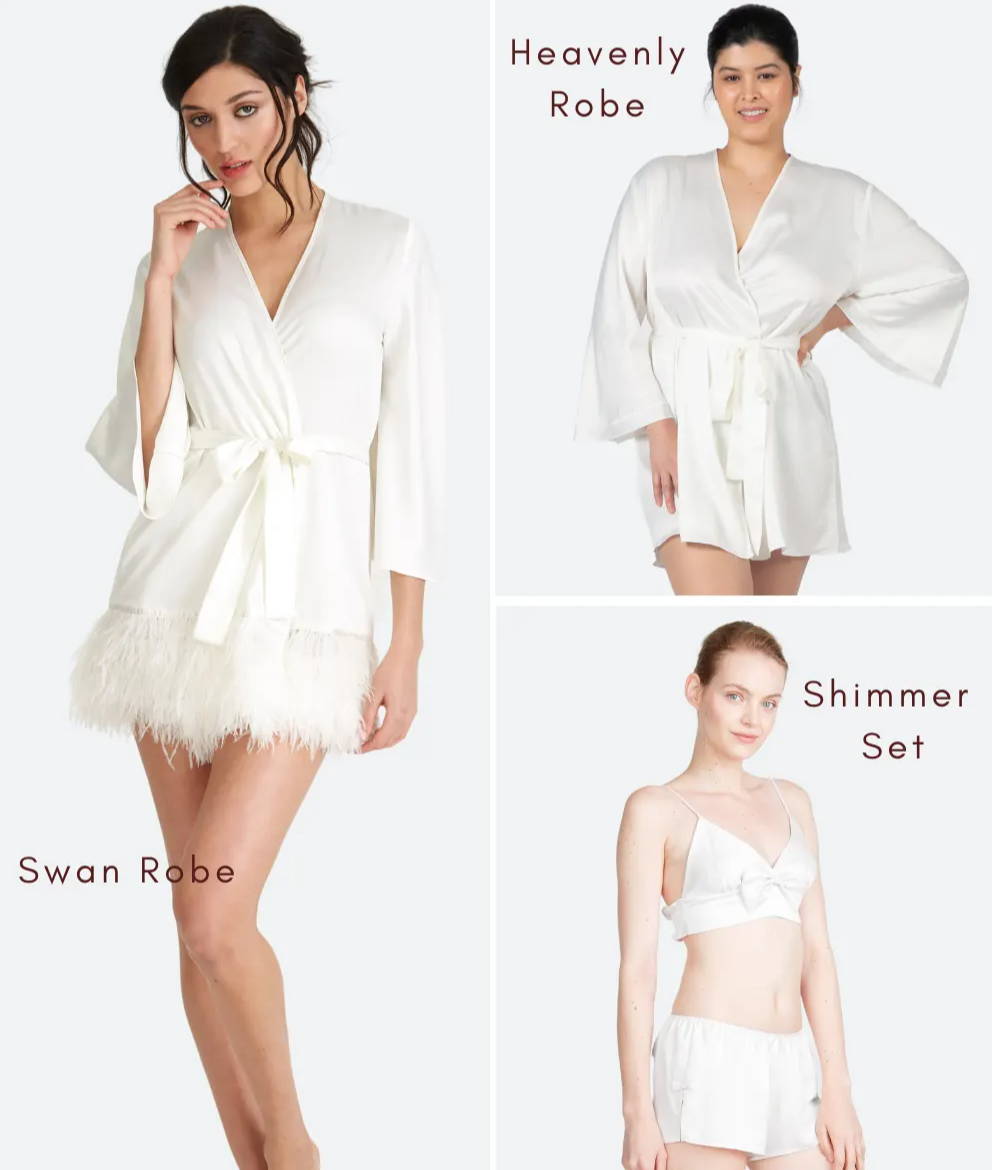 3. The Swan Robe: Bring your fantasies to life with this gorgeous cover up. Every bride will stand out in this unique and jaw-dropping piece. Lined with ostrich feathers along the hem, available in Black and Ivory, sizes XS - XL.


4. The Heavenly Robe: Maybe your bachelorette party looks more like a fun sleepover with your best girls right now but with this robe, it will be the cutest party ever! From bachelorette parties to getting ready the day of this robe is perfect for bride & bridal party. Coming in long or short styles, three colors: black, ivory & champagne from sizes XS - 3X. PS: Pair with The Chemise
 
5. Shimmer Bralette Set: Looking for something a little more flirty for you and your girls? The Shimmer Bralette & Short Set is everything you need. This lightweight two-piece set features an adorable bow detail, comes in ivory & black from sizes XS to XL


6. Darling Cami Tap-Set: Before, during and after the wedding the Cami Tap Set is a must-have and versatile set perfect to gift the bridal party and pack for the honeymoon. Available in black, ivory and champagne in sizes XS - XL.


7. The Chemise: Classic and elegant, the Chemise is a traditional piece with a twist featuring a cut-out detail in the back and adjustable straps for the perfect fit. Perfect for the bride and bride tribe. Available in long and short styles, three colors: ivory, black & champagne, from sizes XS - 3X.

8. The Fortuna Lace Slip: Let's talk wedding night. Time to slip into something a little sexier and the Fortuna Lace Slip is exactly that. The Fortuna Slip is designed to support & flatter. Made from French style lace in a pattern that gives a classic, sensual and feminine appearance. This slip is available in ivory, black and soft pink from size S - L.


9. The Fortuna Lace Bra & Panty: From the Fortuna Collection you can shop any of our Fortuna bras and panties which are all created from a romantic stretch lace fabric which is pure wedding vibes. Choose from the Fortuna Balconette or Front Close Bralette and pair with our bikini or thong available in a variety of colors, including wedding white and something blue, and ranging from sizes S - XL.


10. The Eloise Set: This set is a modern take on the classic bralette and panty with it's asymmetrical lace and double strap detailing. This supportive yet sexy & sensual set is available in white which is ideal for your wedding night. Available in sizes XS - 3X you can pair with one of our robes to make the perfect wedding night look.