It is finally time to pack up those sweet Spring looks and welcome back the heat. Despite things looking a little differently this year, we officially welcomed summer after a weekend of celebrations, BBQ's & first trips to the beach.
As WFH is continuing into the summer, we have rounded up five "zoom-ready" lingerie looks whether it's for a 3 o'clock team meeting or virtual happy hour - because if you aren't working from home in your underwear, are you even doing it right? - These looks will keep you cool in the summer heat while feeling confident + cute.
Our first look features the Kali Bodysuit. This bodysuit has a soft cup that offers support and comfort. The opaque cups give enough coverage to make this body (N)SFW while the mesh panels give it a unique style. The nylon fabric makes this a "cool" and breathable piece (perfect for the summer) and the flattering paneled design accentuates the feminine curves.
Pair this bodysuit with a sleeveless summer blazer and your favorite jeans to your next meeting or presentation and channel that confidence, because you are a #BossBabe.
The Kali comes in three colors: Black, Navy and Summer Lilac.
The Amelia Lace Cami - $100.00
As you know, we are all about pieces that can be worn in and outside of the bedroom. Our second look features the Amelia Lace Cami. This beautiful swing cami is made from a buttery-soft, rayan crepe fabric that is lightweight and ideal for the warmer weather. The tie straps allow for an easy adjustment and the shape + sexy lace insert make this top a go-to in your wardrobe.
This versatile top is perfect to wear with a pair of jean shorts and nobody will know you will wear it to cozy up later!
The Amelia comes in four colors: Black, Ivory, Red Hibiscus, Blooming Blues (featured) and Tropcial Oasis.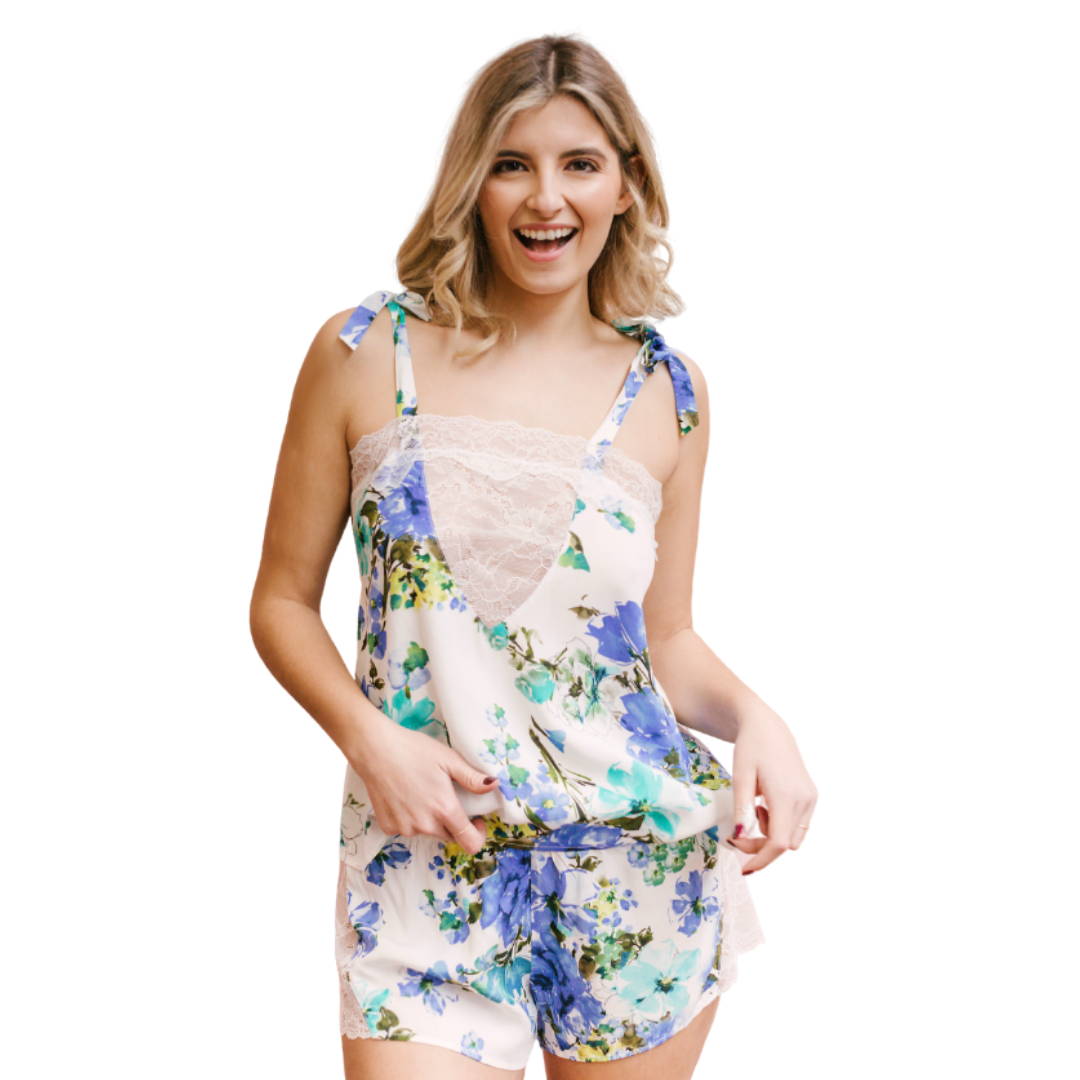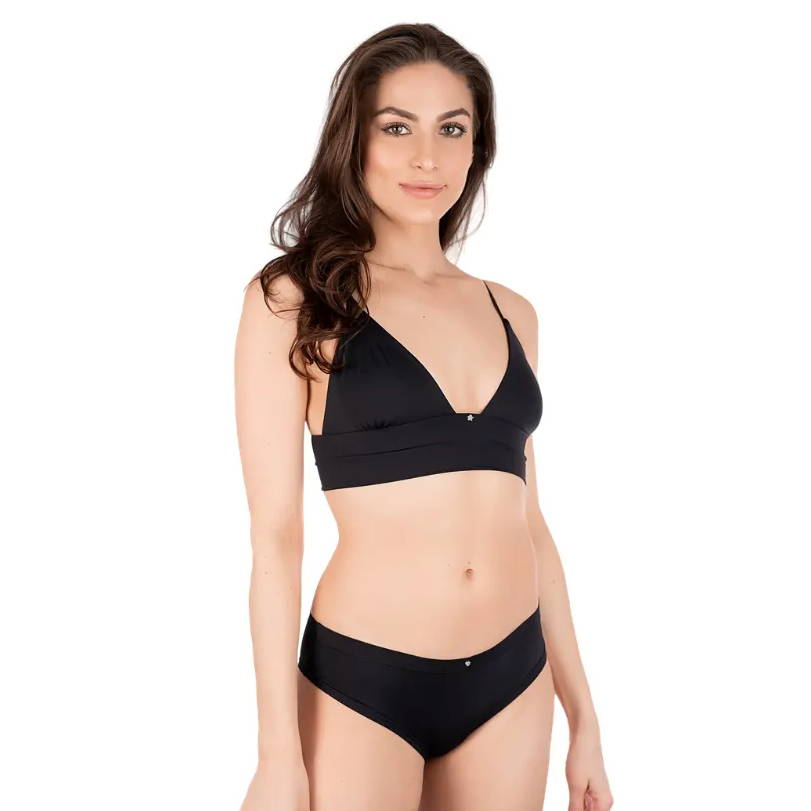 Yes, we are still in love with bralettes. The Piel Bralette is a must have with it's lightweight fabric made of nylon and spandex giving this wire-free bralette a swimsuit-like feeling without the 'digging in' that can happen with suits. The Piel has a sturdy elastic band right under the cups, while the rest of the bralette wraps lightly around your upper torso.
So how are we wearing it? Mesh is big right now, be on trend with and pair the Piel with a mesh tee. Pro tip: mesh will help you to keep cool on those hot summer days.

The Piel Bralette comes in Black, Ivory, Honey Gold & Turquoise
Complete the set with Piel Thong or Piel Breif.

The Eloise Bralette - $118.00 & The Kali Soft Bra - $44.00
Who doesn't love a slouchy white tee with a pair of boyfriend jeans? Throw on over the Eloise or Kali Bralette, grab a cute pair of sandals and you are ready for that virtual happy hour.
The Eloise Bralette (pictured above on left) features princess seams, which provide shaping and volume and has a wide elastic at the bottom, which gives additional support. The Eloise also has adjustable shoulder straps and is finished with picot plush elastics throughout to make it super comfy.
The Eloise Bralette comes in Black & Ivory. Complete the set with matching Eloise Panty.
The Kali Soft Bra (pictured above on right) is a triangle cup made from a lightweight, nylon & spandex material. Similar to the Piel this is a warm weather friendly bralette. The soft, stretchy microfiber offers support + comfort and the adjustable elastic strap can convert into a criss-cross option. Each bra includes an adorable hand stitched, semi-precious stone.
The Kali Soft Bra Black, Lilac, Navy & Turquoise. Complete the set with matching Kali Adjustable Thong or Kali Hipster Brief.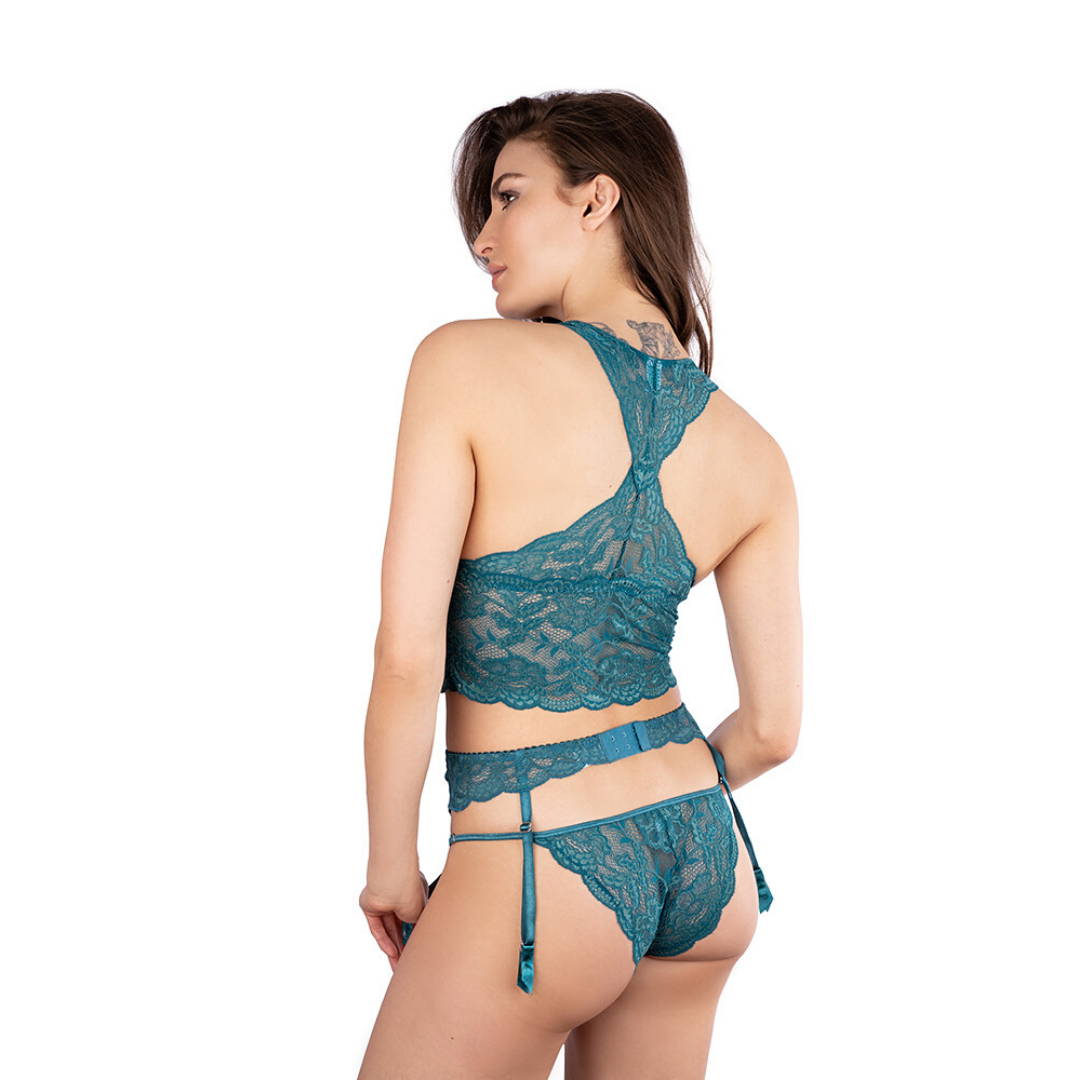 The Fortuna Racerback Vest - $80.00
Our last look features the Fortuna Racerback Vest. Unlike other camisole designs, the Fortuna Vest is cut from super breathable, stretch lace making it ideal for Summer months. The unique racerback style gives bra support to most cup sizes in a flattering design.
It is the time of year again where we can unpack our favorite cutout dresses and backless tops which are perfect to pair with peek-a-boo lingerie like the Fortuna Racerback Vest.
The Fortuna Vest comes in Black, Ivory, Light Pink, Navy & Emerald Green.
Complete the look with Fortuna Adjustable Thong, Adjustable Bikini or Fortuna Cheeky.
These are just a sampling of pieces you can shop for anytime at our Lingerie Shop, no subscription required!  Summer may be starting a little differently to how we imagined but that doesn't mean summer is canceled. Now go and slay Summer 2020 with these looks, girl!
Will you be switching out your lingerie drawer this summer? Comment below or connect with us on Instagram (@burgundyfoxco) to share!