I wouldn't say I'm a big fan of multi-tasking, except when it comes to clothes, so I love this trend I'm seeing everywhere-lingerie styled as clothes. Consider lingerie the extra shot of espresso in your everyday latte. It not only lets you get the most mileage out of a garment, but acts as a 'jolt' to your wardrobe and your entire day--you can take the comfort and confidence you find from lingerie you love, and share it the world. From lacy camisoles to menswear inspired PJ's, learn how to style your lingerie and sleepwear into looks that will turn heads and keep you shining from dusk to dawn this summer.
Bralettes
This is one of the easier garments to work into your everyday wardrobe and also one of the simplest ways to add a bit of luxe and intrigue to your outfit.
[caption id="attachment_935" align="alignleft" width="368"] Credit: Daily Mail[/caption]
I love Khloe Kardashian's ensemble here. She paired a bright red bra and shape wear with a matching dress and bag, plus neutral accessories that keep her overall look 'light' and modern.
Matching bright lingerie with a monochrome top or dress makes the outfit look completely intentional. Do you have a bright bralette that's too pretty to hide in a drawer? While I wouldn't call this an 'everyday look', Khloe's outfit is giving us major inspiration to break it out. Not to worry, there are plenty of approachable ways to dress your undergarments down, too.
Wear it:
Under a plain cotton dress, long, short or midi length. The longer the arm holes the better to show off your stylish bralette.
With a long skirt or wide leg trousers for an outfit that feels like you've rolled out of bed (mission accomplished!) but looks polished. This keeps things balanced between a fitted top and loose bottom[caption id="attachment_948" align="alignright" width="336"] Credit: Madalynne Intimate[/caption]
Under a light & gauzy button-down top. This Madalynne Intimates bralette under a striped blue & white button-down, a pair of distressed denim shorts and tan slides-an easy summer look. To keep things airy and casual, I like shirts one size up, to allow for layering, tucking and tying.
Under a wrap-around dress or top. Wrap around tops can be beautiful and yet pesky. Skip the hassle of constantly re-adjusting your top and pick a gorgeous bralette that you'd actually want to show. Be sure to choose something you're comfortable showing, so your final look is confident and intentional.
Camisoles
Wear it:
Under a deep v-neck t-shirt or sweater, with the front loosely tucked into a pair of jeans, shorts or slacks. This is great for the times you'd like to keep your look subtle. Tie off this layered look with a simple necklace, a bandana choker or wrapped scarf.
On top of a fitted t-shirt or button-down shirt, a la Clueless
With a thin drop necklace to add a finished element to your outfit while allowing your camisole's neckline to take center stage
If you've got a pair of matching shorts, those can do double work, too! Pick a pair that doesn't cling to your body. Add a loose tee, an army jacket or casual blazer, a pair of booties and a long chain necklace.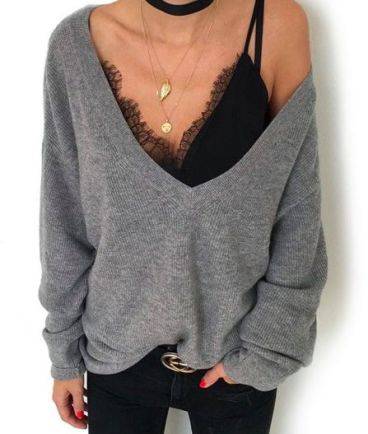 Bodysuits
We've seen an influx of bodysuits in the last year and it doesn't look like they are going away anytime soon--thank goodness, because we love how comfortable and stylish they are.
They were all the rage at this past season's lingerie expos and we can't wait to share some of the Fall/Winter collections--when sleeves get longer and colors get bolder.
Much of the same principles that apply to bralettes and bras, work for bodysuits, too. They may be even more versatile because they cover your waist, if you're not into showing midriff. Here are the many ways you can wear bodysuits at every occasion:
Wear it with:
Wide leg trousers a la Kate Hudson. Flat front trousers or jeans work great for more embellished bodysuits, letting the eye focus on the details. For more simple bodysuits, add an embellished waistline, like a cinch or a tie-front belt, or an interesting belt, for visual interest.

Denim all day. Bodysuits have a way to lend themselves beautifully to denim bottoms and tops and is an excellent way to break up a jean jacket or vest with a denim bottom. We love this boho look created with Thistle & Spire's bodysuit, who has an[caption id="attachment_906" align="alignright" width="368"] Credit: Madalynne Intimates[/caption]

incredible line of bodysuits that are available through Burgundy Fox.

High-waisted anything. This bodysuit by Madalynne Intimates is part of their new Fall/Winter collection and is available through Burgundy Fox just in time for an early fall, al fresco dinner date. We would pair it with a pleated black skirt and bright cobalt platform sandals. It would look equally chic in tailored, black or navy blue cigarette pants and black pumps.
Pajamas & Nightgowns
I'm sure you've been tempted to wear your PJ's out of the house before. With the variety of stylish options available now, you totally can--and pick up style points in the process.
If you're trying to do this PJ thing incognito, it helps to pick pajamas in colors or patterns that are similar to your existing wardrobe and wouldn't stick out like a sore thumb. Then, dress them up and find extra comfort knowing you're likely the coziest person in the room.
Wear it with:
Skinny jeans. If you've got a loose top, go lean on the bottom. This even works with nightgowns that are thigh to knee length.
Accents. This is key to disguising your clever wardrobe hack until at least an hour passes by. Accessorize with a noticeable necklace, a watch, a solid bangle or two.
A fitted jacket. Nothing pulls together a look like a blazer. Wear this over a loose pajama top or nightgown and no one will ever know.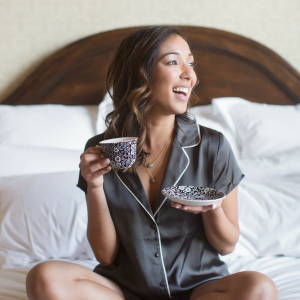 Floral Robes
This is the least subtle way to wear sleepwear out, but perhaps the most comfortable, unusual and stylish. However you wear it, you'll definitely have that 'it' factor and attract a few stares, maybe some photos and definitely lots of compliments.
Wear it with:
A form-fitting dress. There's no denying I am obsessed with this look, styled with an Old Shanghai Online kimono. Wearing a fitted dress under a robe gives it the structure it needs to avoid looking sloppy or frumpy.
Bodysuits. The ultimate in comfort, will you ever wear 'real' clothes again? To keep things polished, pair it with a fitted pencil skirt, skinny jeans or go boho with patchwork cropped pants.
Distressed denim jeans or shorts. Pair it with a loose tee and open toe booties. This is the perfect way to tone down a feminine garment and give it a bit of edge.
Now that you're equipped with several different ways to wear lingerie, sleepwear and robes out of the house, what new look will you try this summer? Above all, we know that comfort and confidence is the best accessory--so experiment with these looks and see which work for you. Burgundy Fox subscriptions include all the garment types you read about: bralette & underwear sets, matching camisoles & shorts, bodysuits, pajamas and nightgowns, and robes--so you can experiment with new looks every month or quarter. Let us know which style tips you enjoyed the most and share your new outfits using #burgundyfox #allbodiesallminds @burgundyfoxco.
---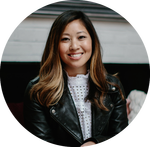 About the Author
Leslie Wong is the Founder of Burgundy Fox, a subscription lingerie brand on a mission to celebrate all bodies and empower women to love themselves. Burgundy Fox strives to create a more inclusive shopping experience and a kinder message about beauty for women now and in the future.