Summer breeze, makes me feel fine…we've rounded up five of our favorite dairy and gluten-free recipes to keep your body and mind lookin' and feelin' just as fine.
Coconut Water Berry Popsicles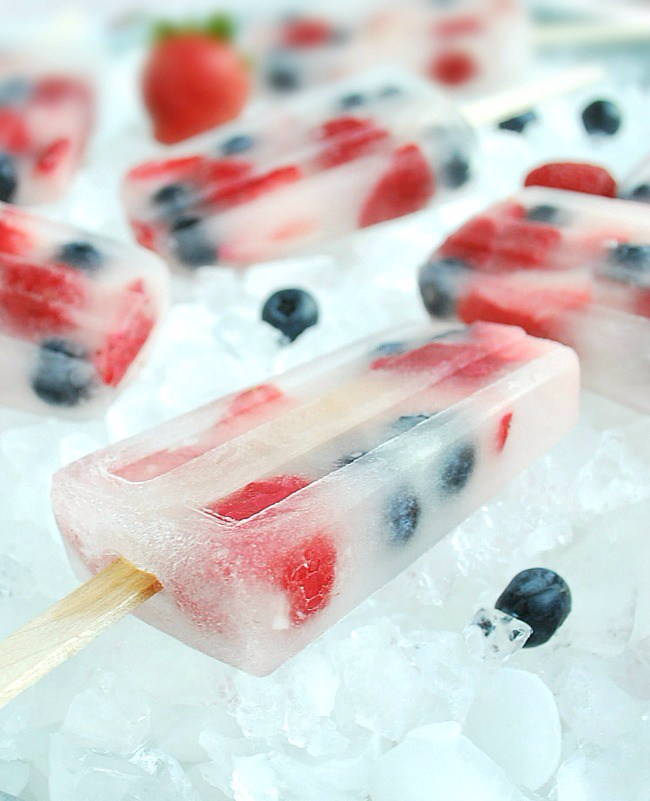 Rehydrate, feed your skin, and chill – serves 6  
Grab some popsicle molds (we love these BPA-free kind!) and fill with your favorite coconut water, blueberries, raspberries and chopped strawberries.
Check the nutrition label for a coconut water that does not have added sugar
Freeze overnight and impress your guests with this berry festive treat  
Recipe courtesy of Back to the Book Nutrition
Watermelon Vodka Cooler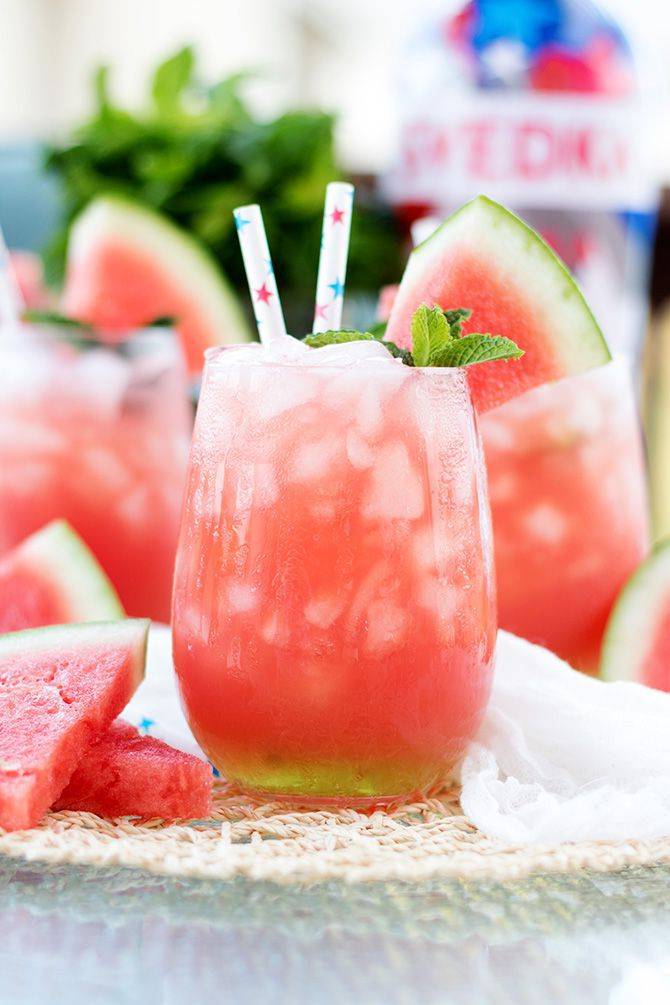 Detox while ya Retox – serves 6
1 large watermelon
½ cup preferred vodka
¼ Triple Sec
3 tablespoons fresh lime juice
½ cup water
6-8 ice cubes
6 mint leaves for garnish
Blend sliced watermelon pieces with ice and ½ cup of water, option to strain blended smoothie to a juice into a large pitcher. Stir in vodka, Triple Sec and lime juice. Serve chilled and garnish with fresh mint.
Recipe courtesy of Epicurious
Grilled Veggie Quinoa Salad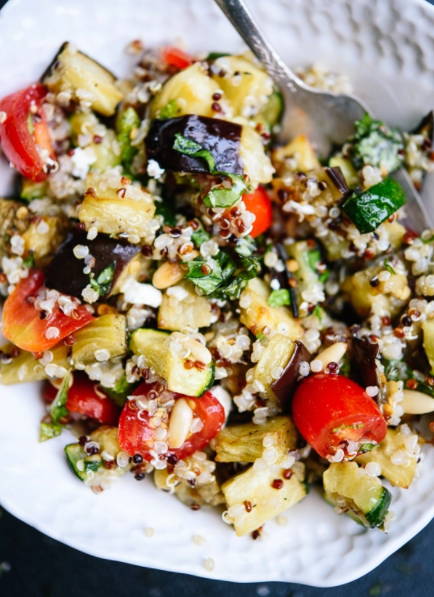 Get your red, white and green on – serves 4
5 ounces arugula
2 med. red peppers, seeded and quartered
2 portobello mushroom caps
2 lemons, halved
5 tbsp. extra-virgin olive oil
1 cup cooked quinoa
Black pepper
Sea Salt
4 oz. Pecorino cheese – optional
Heat grill to medium high. Brush red peppers, portobello mushroom caps, and lemons with 2 Tbsp. olive oil and sprinkle with ½ of salt. Grill mushrooms 15 minutes or until tender, turn once. Grill lemons, 8 minutes. Grill peppers 6 minutes or until softened, turn once.
Mix arugula, cheese, quinoa, the rest of the olive oil and 1/4 tsp salt, ¼ tsp pepper. Thinly slice peppers and chop mushrooms; add to arugula along with juice from lemons. Toss vigorously with pride!
Photo courtesy of Cookie + Kate
Sweet Potato and Plantain Chips + Pineapple Guac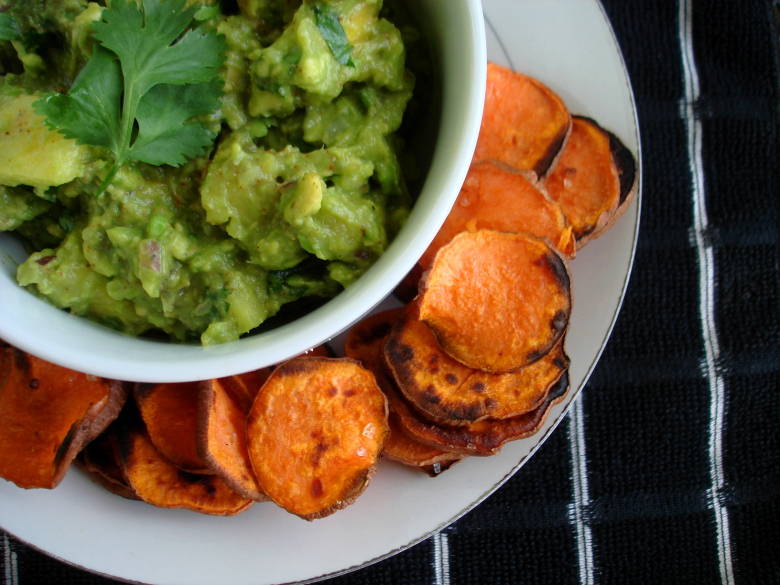 How Sweet it is to Dip You in Guac – Serves 2-3
2 avocados, cut in half, pits removed
½ pineapple, diced
1 skinny yam or sweet potato, sliced thin into chips
1 plantain, ends removed, peeled and sliced into ¼ inch pieces, smashed with the bottom of a mug (use a ripe one-brownish color)
¼ red onion, finely diced
2-3 tablespoon cilantro, diced
2 garlic cloves, finely diced
1 teaspoon granulated garlic
½ teaspoon cayenne pepper
Salt and pepper, to taste
1-2 tablespoons coconut oil, melted
Heat grill to low-medium. Place sliced sweet potatoes on aluminum foil and brush coconut oil on each sweet potato and sprinkle with salt. Place on grill to let cook and flip them after about 8-10 minutes, keep a close watch to ensure you don't burn the chips!
Heat up a large skillet under medium heat and coat the coconut oil at the bottom on the pan. Once oil is very hot, add plantains and let cook for 3-5 minutes per side. Once they are cooked brown on both sides place on a paper towel and soak oil.
Mash avocados then add pineapple, jalapeño, red onion, garlic, cilantro, spices, and salt and pepper.
Credit: PaleOMG
Berry Fruit Tarts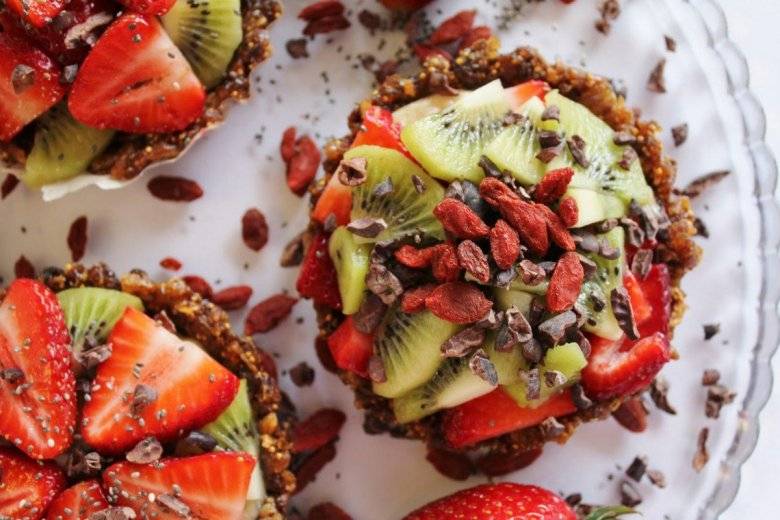 Because it isn't a holiday without dessert – Makes 3
¼ cup dates
¼ cup raisins
¼ cup dried figs
1-2 bananas
2 tablespoon chia seeds – optional
¾ cup chopped strawberries
1 cup blueberries
¾ cup chopped kiwis
Any of your favorite toppings!
For the crust – Mix dates, raisins, figs in blender or food processor and pulse until everything is in small pieces that stick together – let it get to a crust-like consistency and watch that it doesn't get too sticky. Press into three lined tart tins and refrigerate.
For the filling – Mush the bananas with a fork and add the chia seeds.
For the topping – Take the crusts gently out of the tins. Spread the banana chia mix into the crusts and top off with blueberries, strawberries, kiwis and any other toppings.
Credit: This Rawsome Vegan Life
---

About the Author
Natalie Holbrook is a health and wellness contributor for Burgundy Fox. She has a background in nutrition and on her way to becoming a health coach. She is a trained reiki healing practitioner and is undergoing her 200 hour yoga teacher training where she resides in San Francisco, California. Her lifelong passion has been to help others thrive by finding their authentic selves through practiced intuition and healthy living. Look out for her wellness retreats coming at the end of 2017!