We sit down for a talk about transitions with Shadiah Sigala, the co-founder of HoneyBook, a community and business tool creative entrepreneurs use to book new business and seamlessly manage it—all in one place. Shadiah takes us through her journey starting HoneyBook, going from zero to an award winning culture and venture-backed company, and how her latest transition, motherhood, and entrepreneurship can go hand-in-hand.

---
What we chat about:
-How her upbringing has helped her to become who she is today (1:11)
-How the Honeybook product and platform was created (2:58)
-What the evolution of Honeybook has been (5:04)
-How Shadiah has changed as a leader (8:01)
-What the validation is behind HoneyBook (12:01)
-Why Rising Tide Society was brought into HoneyBook (13:03)
-How to solidify a company narrative (15:08)
-What a rebrand looks like (17:30)
-What motherhood as an entrepreneur and having a career is like (21:08)
-How diversity is a part of the HoneyBook culture (29:29)
-What the word Seamless means to her (34:03)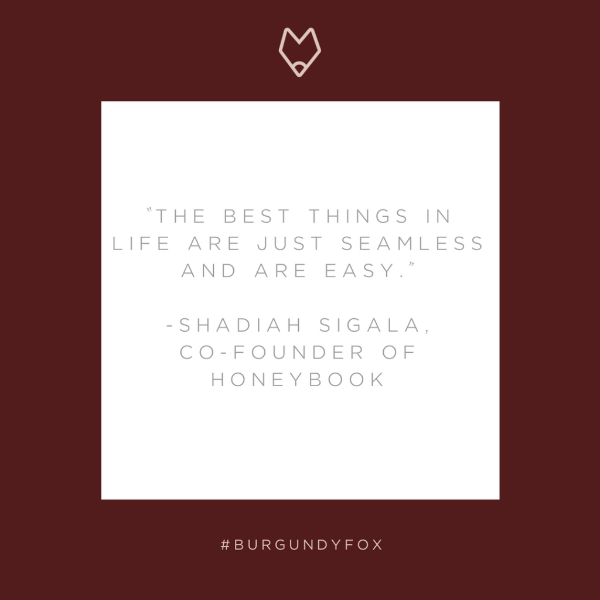 Links we refer to:
-Honeybook
-Eric Ries – The Lean Startup
-Rising Tide Society
-Natalie Franke
-Amy Henderson (Researching women in workplace)
Shadiah Sigala's Bio:
Shadiah is Cofounder and Head of People at HoneyBook. She has held various operational leadership roles at HoneyBook, from establishing the best-in-class Concierge support team, to installing a community-first marketing team, and most recently, amplifying HoneyBook's famous culture through HR, talent and workplace operations. Prior to HoneyBook, she held roles at Activehours and Aetna, in addition to owning her own farm-to-table catering service.
Shadiah received a Master's in Public Policy from Harvard University and a Bachelor's in Latin American Studies from Pomona College, breaking ground in her first generation Mexican immigrant family. Shadiah is keenly interested in promoting women and families in the workplace, and runs a professional women's leadership group in her "spare" time.