Liz Hansen is a photographer and champion of women empowerment at Chicago Boudoir. She has been a professional photographer since 2011and forever believer that women should feel confident no matter their size, shape or age. Through her portraits she seeks to empower women to gain confidence and recognize their unique beauty.
We are so excited to share some of Liz's work and stories of real women on how their experience with the camera inspired self-love, confidence and feel seriously sexy! Keep reading to hear Tressa's story and why she can't stop looking at her photos! PS: she is a total babe #FearlessFox!!
'Tressa came into the Chicago Boudoir Photography studio to create a beautiful wedding gift for her fiance. We had so much fun during her photoshoot - she brought a great energy into the studio! She and her fiance have been together for several years and she really wanted to create an unforgettable gift for him for their wedding day. Tressa was thrilled with the final product we created together at the studio!
First up, here's a look at Tressa's hair and makeup look for her boudoir photoshoot. She wanted her hair to be curled in beach waves - not too straight and not too curly. The beauty team also gave her a velvety matte red lip and a soft smokey eye.
Tressa wanted a bridal look in her photos and brought a gorgeous white lingerie set. We accessorized that with a veil and bridal garter that we have at the studio. She also brought her fiance's golf club for some sporty photos!
Check out what Tressa said about her photoshoot at the Chicago Boudoir Photography studio:
"It was an amazing experience! I wanted to do something for my fiancé but also for myself. I wanted to do something where I would feel super sexy, pretty and sensual. I wanted to feel empowered. It was a phenomenal experience that I will never forget.
Some of the fears that I had going into the shoot: being self conscious about my body and not having clear skin.
When I walked into the studio I felt so at home and at ease. It felt like meeting up with some girlfriends that I've known for years and just hanging out! We chatted it up the entire time.
The hair and makeup artist had me looking like a movie star! I felt like I was walking off of the set of the Real Housewives of Illinois! It was a great overall experience.
Liz took amazing photos. I was so comfortable. All of my inhibitions went out the window. Liz gave me tips and pointers on how to pose. I felt super comfortable in my skin in the studio. We had an overall great time.
Then she sent me the final images. OMG I was blown away! They were absolutely amazing. I can't stress that enough. After I got my gallery, I can't tell you how many times I've looked at them. I have the app on my phone and I look at those photos at least twice a day.
I got a beautiful print from my shoot. It will be hanging in my bedroom. I love it because it's super soft and sensual and romantic and I am absolutely in love with it.
There's so much that I can say about Liz and her company. She's a great business owner. Super friendly. Very professional.
If you're thinking about doing a boudoir shoot - do it! You will not regret it. You're going to feel completely empowered.
Thank you Liz for the amazing experience that I will cherish for years to come!"
- Liz Hansen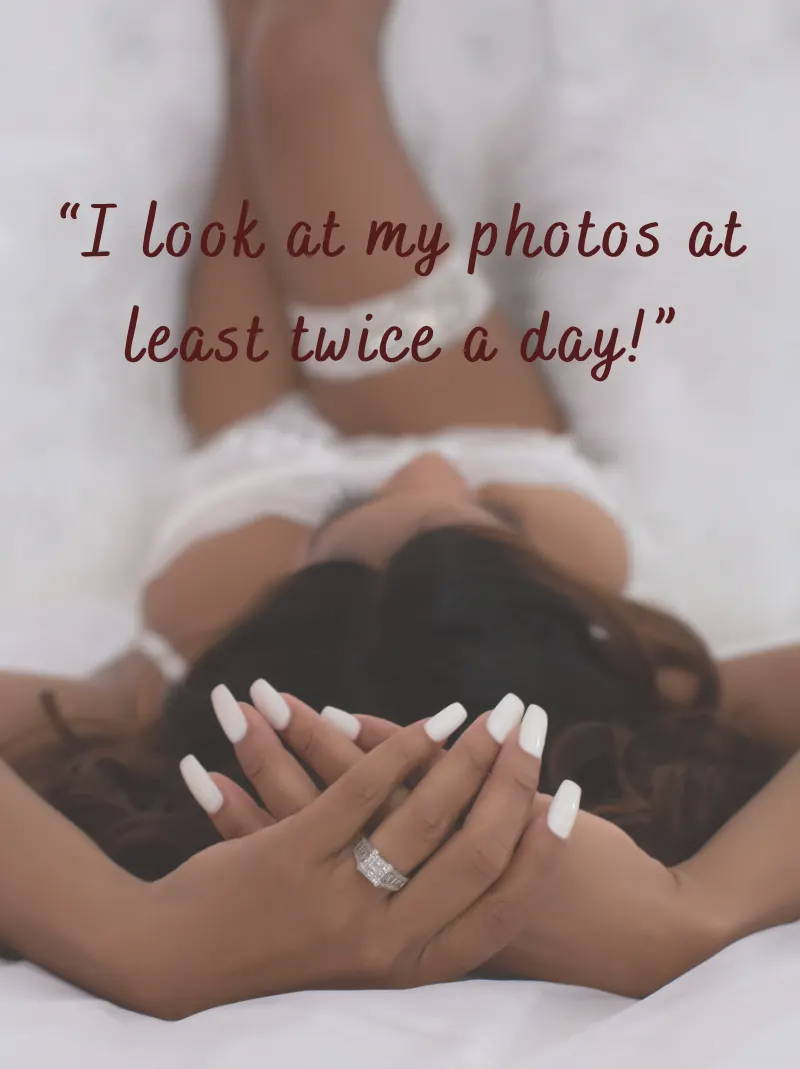 Liz is one of our Boudoir Partners creating fierce and feminine photos for
every
woman. If you're in the Chicago area why not book a shoot! Reach out to Liz for more information and everything you need to know about booking a boudoir shoot:
Book your next shoot here!
Check out Tressa's Boudoir Experience: