The Vacation Proclamation
Hear Ye, Hear Ye… it is about time you took that trip and blissed out in some glorious and much deserved you time! Whether that means an adventure with the girls, your significant other, family or a solo journey, congratulations on giving yourself the time to do what life is all about: ENJOYMENT! To prep for a holiday to remember, we've got 3 tips to do pre-vacay to keep you feeling and looking your healthiest:
The Pre-Party
Sweat!
They say the best things in life make you sweaty, ain't that the truth! Plus, there's way more benefits to exercise than dropping a few lbs or tightening up. Sweating will not only detoxify and clear your organs, including your largest one, ahem, your skin, it will also help you to be more focused. It could be anything: running, weight-lifting, spin class, barre, whatever your forte. Just try to sweat once a day for one full week before your trip.
Detox Pre-Retox!
One of the best things about vacation is the food and drinks you'll delightfully and guiltlessly indulge. To enjoy and still feel fantastic with absolutely no regrets, make sure your body is a clean slate prior to the trip. I recommend Dandelion Root Oil. The root of flower has been used in Korea, Mexico to detoxify the liver, improve digestion, strengthen your immune system and maintain blood sugar levels.I recommend adding 2-3 drops to full to a liter of water.
Also try out Lemon Oil. I suggest lemon oil vs. the actual lemon, because it is highly concentrated, and the pressed oil includes the peel, which includes more potent benefits. This will help your body eliminate toxins, add brightness to your complexion and even lift your mood. How do you think Queen Bey looks so fierce and called her album Lemonade? Add 1-3 drops into a liter of water for one week.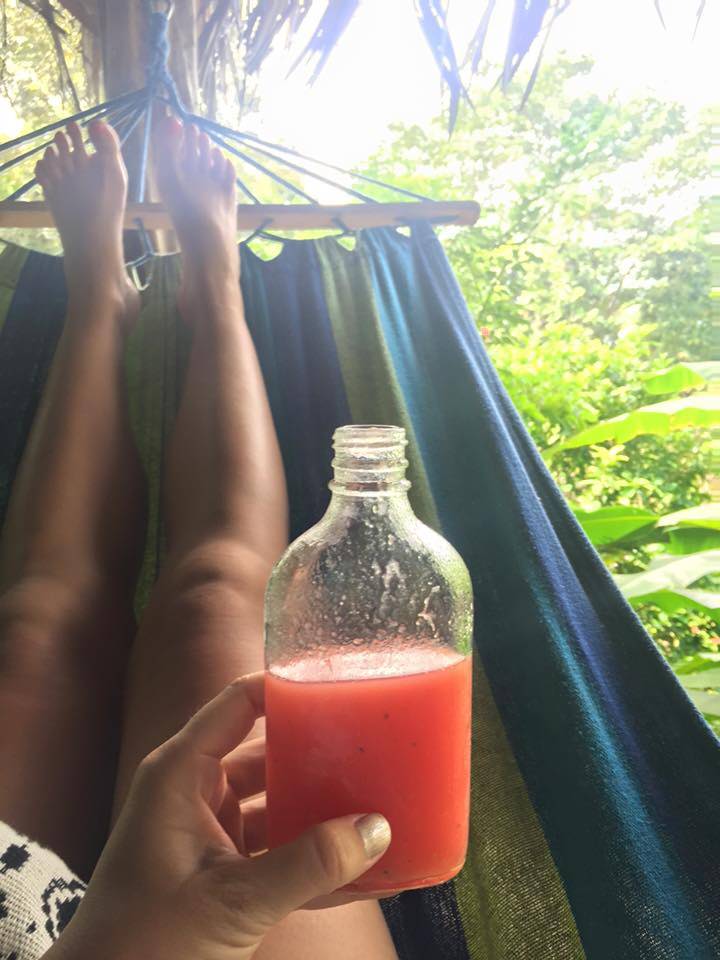 Hydrate!  
You remember that your body is made of 65% water, right? But what does that actually mean and why do we need to drink so much of it? Water builds your cells, metabolizes your food, regulates your internal body temperature, insulates your brain, spinal cord and organs and lubricates joints. If we get to just a 1% dehydration level, our mental and physical coordination becomes off balance. It's important to stay as hydrated as possible before we gear up for a big event, and drinking water can be easy. You can follow her on Instagram at @Livinggypset.
Get a one-liter water bottle (I slurp my daily liters up with a bottle that has a built in straw like this) and aim for three liters per day. Add in fruits and veggies that are water based: greens like spinach, arugula and celery, and benefit glowing skin and improved joints with watermelons and cucumbers.  
*Bonus tip: Avoid alcohol for a few weeks leading up to your trip to remove bloat, have a clearer mind, increased productivity and all around healthier, happier you!
---
About the Author:
Natalie Holbrook is a health and wellness contributor for Burgundy Fox. She has a background in nutrition and on her way to becoming a health coach. She is a trained reiki healing practitioner and is undergoing her 200 hour yoga teacher training where she resides in San Francisco, California. Her lifelong passion has been to help others thrive by finding their authentic selves through practiced intuition and healthy living. Look out for her wellness retreats coming at the end of 2017! You can follow her on Instagram at @Livinggypset.