We feel the moment when it happens. That "I love myself" reaction when you're wearing an outfit that makes you do the happy dance. It's one of those moments that I encourage my clients to replicate in every outfit that they wear.
Yes! Your wardrobe can make you feel all that and then some. Style is about self expression and can release a serious dose of happy when you love what you wear. So here's a few tips for major joy when it comes to getting dressed
1. Your Mama as been trying to tell you this all your life…Your awesome starts from the INSIDE
Buying a new item will make you feel amazing...temporarily. However, I want the "I feel great about who I am" to last beyond the purchase. This starts with acknowledging all that you love about yourself and allowing those to override the things that we aren't so crazy about. It's real life, we're not perfect and that's okay. That's the beauty of it all. You get to bring you and all that makes you special, unique and different. The styles you choose are anchored by your self confidence and your "I love who I am, just as I am." This is powerful because you are dictating what you put on your body with a mindfulness that is all yours.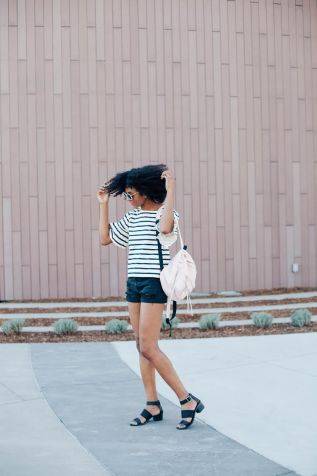 2. It's ALL FOR YOU
So much about style is dictated to us. Ugh! No more. I want you to wear what makes you feel your most awesome self. If that's all black...rock it. If that's mixing prints, get it girl!! We have this idea that in order to be more of who we are (especially when it comes to style) we must look like each other. Style isn't about duplicating. Fashion is about inspiration and ownership.
3. Celebrate the LOVES
We all have parts of our body that we love. Great shoulders, long legs, toned arms, curves for days, full breasts, stacked booty…I could go on. The point is to celebrate those areas that we love. A slip dress can show off those great arms and a high waisted denim can show off that waist and those curves.
4. Don't forget the FUN!
Adding a dose of fun and play makes the process less serious, takes out the "ugh" and makes it all less about perfection. For example, these silver loafers with a leather tassel tie. They bring fun and a bit of edge to a sweet dress. Play with accessories and don't overthink it. My go-to is usually simple makeup with a pop of red on my lips. It never fails.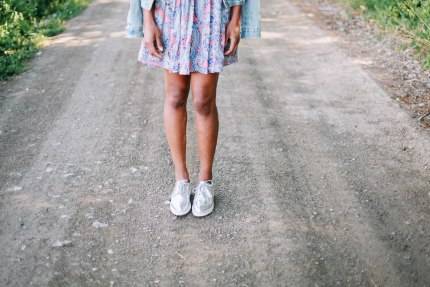 ---
About the Author:
You can learn more and contact Laura at www.lauratully.co. She'll be sharing style tips regularly on the Burgundy Fox blog and you can follow all her fashionable adventures on Instagram at @lauratully.co.